Greetings in the name of Jesus who blesses children!
I have been thinking a lot about children this week. On Tuesday morning at 7 AM my phone rang. It was my son Kyle and instead of his usual "Hi dad!" he greeted me with, "Hi grandpa!" Kyle called to tell me that late Monday evening he and his wife Becca, welcomed Addison Grace into their lives! My letter writing will be interrupted in a few hours so Sue and I can go meet "Addi" in person and welcome her into our lives too!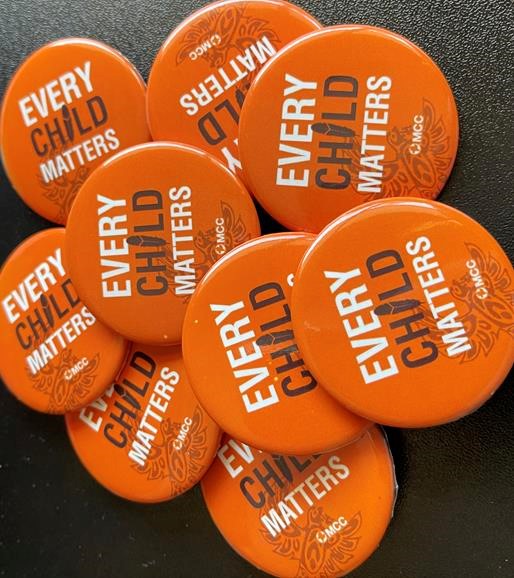 Later Tuesday afternoon Mennonite Central Committee (MCC) sent their weekly Bulletin announcements email. This image immediately caught my attention. As MCC commemorates Indigenous History Month in Ontario, they take the time to name the truth of the 4,100 Indigenous children who never returned home. MCC invites us to wear these button and lift up the survivors, and the multi-generational survivors, who carry this pain.
On Wednesday I entered into email conversation with Dana Hyde and Bethany Kropf our Christian Education Lay Ministers who give leadership to our Christian Education and Nurture Team (CENT). A Litany of Appreciation, prepared by Dana and Bethany (printed below) will be shared on Sunday as we gather for worship. The words acknowledge some of the work and ministry done this past year to bless our children and youth.
On Sunday we will also take time to dedicate our 2021 Vacation Bible School (VBS). We will pray God's blessing on our children and their parents, on our VBS leaders and on all who have been and will be involved in this experience. At VBS this year our kids will learn "how Jesus is our ultimate guide in the rainforest and in life. Some days we might feel lost, but Jesus will show us the way. He leads us to the treasure of eternal life, and He'll never leave us alone!"
As the read the stories of Jesus I am always blessed when I read about the interactions Jesus had with children. Jesus cared deeply for all children and he honoured them. Jesus would expect that his followers do the same!
13 One day some parents brought their children to Jesus so he could touch and bless them. But the disciples scolded the parents for bothering him.
14 When Jesus saw what was happening, he was angry with his disciples. He said to them, "Let the children come to me. Don't stop them! For the Kingdom of God belongs to those who are like these children. (Mark 10:13-14)
Pastor Ray