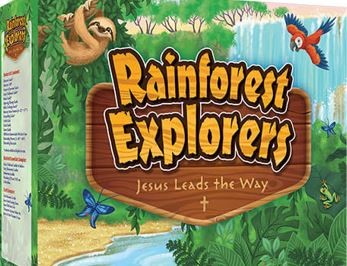 Rainforest Explorers! Jesus leads the way!
This year, we are excited to launch a virtual VBS, so we can continue to share the love, guidance and light of Jesus, our Leader and Saviour, even during Covid restrictions. We as leaders felt passionate to find a way to reach out and share Jesus, and we want to share our plans with you.
We will be following the curriculum entitled 'Rainforest Explorers: Jesus Leads the Way". The rainforest is a wild place and it's easy to get lost. To make it through this unknown world safely, kids (and us) need a guide who can keep them on the right path. That's why we need Jesus!
At Rainforest Explorers:Jesus Leads the Way VBS, Kids learn how Jesus is our ultimate guide in the rainforest and in life. Some days we might feel lost, but He'll show us the way. He leads us to the treasure of eternal life, and He'll never leave us alone!
As an alternative to our regular VBS, this year we will be providing activity boxes for each child who would like to join us!
The boxes will be ready for pickup at East Zorra Church on Monday July 5, Monday July 19 and Tuesday August 3 from 6:00-8:00 pm. They will contain crafts, stories, activities and snacks based on the lesson. There will be an email sent out to all registered families, including a link to the Worship Time/Bible lesson and some other fun activities. We pray that this will be meaningful, engaging and enriching to their faith and understanding of Jesus and His way of life. These activities can be watched and completed at any time, when it works best for each individual family. We are hoping to make this simple for adults and engaging for the kids.
Registration is now open! Please email us at ezvbs2021@gmail.com this week to order your kits. Feel free to share this with your family and friends!
We look forward to worshipping and learning with your kids!
If you have any questions, feel free to contact your VBS leadership team,
Erin Yantzi, Ashley Witzel & Sheryl Leis