The Prayer Shawl Ministry was started in 2009. A few ladies had been knitting and sharing prayer shawls for a couple of years before the Prayer Shawl Ministry became more officially recognized as a ministry of the church. Five to seven ladies meet once a month to knit, crochet, and pray. This provides a variety of prayer shawls to choose from when they are needed. A part of this ministry are Infant Prayer Shawls that are wrapped around each child/baby during parent-child dedication as a prayer blanket.
The Prayer Shawl knitting group meets on the 2nd Tuesday evening of the month in the Parish Nurse office. Anyone interested is always welcome to join us. Although this regular meeting time has been suspended due to Covid-19 we do look forward to meeting again when that is possible.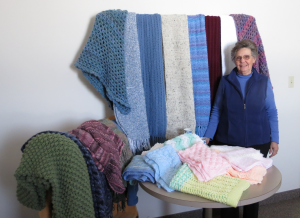 Health Ministry is Whole Person Ministry!
Body   Mind   Spirit