Greetings in the name of Jesus "the pioneer and perfecter of our faith"!
This title for Jesus comes from the inspirational passage of scripture in Hebrews 12.
"Therefore, since we are surrounded by so great a cloud of witnesses, let us also lay aside every weight and the sin that clings so closely, and let us run with perseverance the race that is set before us, 2 looking to Jesus the pioneer and perfecter of our faith, who for the sake of the joy that was set before him endured the cross, disregarding its shame, and has taken his seat at the right hand of the throne of God."
We are all in this "race" of faith, living our lives and seeking to do that in a way that honours the story of God and the teachings and life of Jesus. We look to Jesus because we know that Jesus ran the race set before him; Jesus lived his life of service in faithfulness to God and in meaningful relationships of love with all those God placed his life. Jesus is the pioneer and perfecter of our faith who through his life, death on the cross, and resurrection to new life, defeated the power of evil and sin that weighs us down and holds us back. Jesus made the way for us to live our lives of faith!
This journey of faith, this way of life that follows Jesus, while filled with joy, is still hard. But the good news is that the Spirit of God, in so many ways, sustains us for this journey. Along with the presence of God's Spirit, and the transforming life and work of Jesus, we are surrounded by, "so great a cloud of witnesses", who also become a sustaining inspiration for our lives of faith.
Hebrews 11 begins to name for us this "great cloud of witnesses." In that chapter the writer names and points to people of faith who are part of God's story and members of God's family. People, who by faith, lived in relationship with God throughout their lives, hoping, trusting, believing that the God they trusted in was their God; their creator, life giver and sustainer. By faith they believed that God would be faithful to all that God had promised to them and for them.
The writer names Abel, Enoch, Noah, Abraham, Isaac, Jacob, Joseph, Moses, Rahab, Gideon, Barak, and Samson, David, Samuel, the prophets, and "others". The "others" could include Sarah, Rebekah, Hannah, Deborah, Bathsheba, Ruth and so many more. At one point the writer makes reference to "the people" who passed through the Red Sea on dry land. These "Red Sea people" included men, women and children of all ages.
These were the cloud of witnesses the writer was pointing to! They are the people of faith who have gone before us and whose lives speak into our lives. But I believe that the whole story of the Bible reminds us that the cloud of witnesses is not only a cloud of ancient heroes/people from the Old Testament past. We could add to this list of Hebrews 11 many New Testament followers of Jesus, and many followers of Jesus through the 20 centuries since Jesus died and rose again. And we could add many who have in the 20th and 21st century been for us companions and encouragers for our continuing journey of faith.
All God's people, through all time, are transformed by Jesus and his story and are invited to become part of the great cloud of witnesses. We need the encouragement of people from the past, and the encouragement of those who have walked, and who still walk with us in our lifetime, to help sustain us and inspire us for our lives of faith. Let's be members of each other's cloud of witnesses. Let's bless, encourage and inspire each other's lives! Let's be part of each other's "great a cloud of witnesses" so we can "lay aside every weight and the sin that clings so closely, and run with perseverance the race that is set before us…"
Some of the significant people in our cloud of witnesses are loved ones who you have died but whose lives inspire us to keep living ours. Below Janice Ropp will introduce her book that tells the story of her sister, a significant person in her cloud of witnesses.
Book Launch – A Sister's Legacy of Love by Janice E. Ropp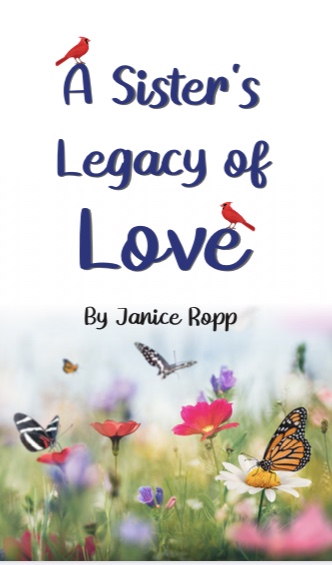 I am so excited to share my book, A Sister's Legacy of Love with everyone!
It was never my intention or on my bucket list to write a book. I didn't have a clue where to even begin!
Four years ago I lost a very special sister Margaret Anne. We had a close bond and when she died, I had a very difficult time dealing with her death. She died so suddenly and I was devastated that I couldn't be with her and tell her how much she meant to me.
A friend suggested that I write her a letter and tell her the things I didn't get to say to her. I did write that letter telling her what she meant to me and how much I missed her. I focused on all the wonderful memories we made together. With so many stories to tell, the letter was so long and I didn't really know what to do with it.
While talking to Tanya about my grief she suggested putting all these memories into a book and share her story.
That's how this book began. I wanted to share about the incredible person that Margaret Anne was and how she affected all our lives.
This book is filled with stories of Margaret Anne's life. It is my hope that everyone reading it, it will give everyone moments of laughter, joy and most of love!
I have shed many tears and laughed lots as I wrote this book. It has been very healing for me and helped me to deal with my grief in a very meaningful way.
I have been very humbled by the response of those who have read my book. Many have shared how it has reminded them of special memories they have of Margaret Anne. Even though she is not here with us, her memories and stories will live on in our hearts forever.
I will be at church on Sunday November 8/20 from 1-3pm for those who would like a copy of the book.
I am so grateful for all the support and words of encouragement from everyone!