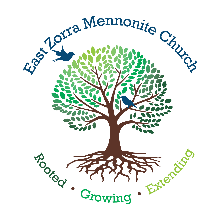 Resources to help us to stay Rooted in Christ and Growing together in Faith
As we move through summer we will begin to merge together the weekly Pastoral Letter and the Announcement Sheet. We are committed to keep sharing weekly emails with announcement updates, prayer concerns, notes of joy, Jean's Jottings & Tidbits and pastoral reflections. The format going forward may look a bit different and will evolve along the way. While Lisa our office administrator will pull more of the information together please feel free to keep sharing prayer concerns, or other personal notes, with Jean and Lloyd. We want to keep the communication flowing.
The next few Sundays will look a bit different than our usual Sunday mornings.
Sunday August 1st East Zorra is hosting the second summer combined service with Cassel and Tavistock Mennonite Churches. Members from those churches will join us in-person or over Zoom. We will continue the Worship Series called "Joy Rides!" This series explores the book of Philippians, Paul's epistle of joy. On August 1st we will focus on the theme "Joy Shines" based on Philippians 2:12-30. We welcome you to join us!
Register for in-person worship by contacting Lisa at office@ezmennonite.ca by Saturday Morning July 31 by 10 AM. If Lisa is unable to take your call, leave a message that includes your name and phone number. Your registration will then be confirmed either by email or phone. 
Sunday August 8th will be our annual Tavistock Ecumenical Service.
This service will not be held in the park as usual but will be a recorded service produced by Trinity Lutheran Church. Many of the local congregations will be contributing pieces to the service through recordings. Pastor Lloyd will be sharing a scripture reading and there will be a recording of East Zorra people singing, "All hail the power of Jesus' name."
Over the years this ecumenical service has included a special offering for Tavistock Assistance Program (TAP). If you would like to make a donation to TAP this summer please note that on a cheque or e-transfer.
We plan to share the recording of the service through our regular Zoom worship gathering on Sunday morning at 10 am. This will allow those on phone to listen to the service. It will also create an opportunity for anyone who wishes, to listen and watch together and then to share with each other following the service. This service will also include a communion service which you can participate in from home. The direct link to access the service, whenever timing is good for you, will be provided in the letter on Friday August 6th.
Sunday August 15th we are planning to have our annual outdoor service at the Queen's Park Pavilion in Tavistock at 10:30 a.m. More details will follow next week
EZMC Building Use for Committee Meetings.
A designated meeting space that allows for physical distancing will be located in the basement. The boardroom and other small rooms are closed for now. Please contact Lisa and book the meeting space to ensure that it is available for use. You will be sent the health and safety protocols before your meeting.
EZMC's Safe Church Policy requires that all volunteers, who work with vulnerable persons, have a current Vulnerable Sector Check (VSC) on file. Thank you to all who volunteer with these ministries.
If you received a Volunteer packet prior to the pandemic and completed the process with your local police service but didn't have a chance to hand in your VSC form to the church office – please do so now.
If you received a packet but didn't have a chance to start the process prior to the pandemic please contact Lisa to receive a new Volunteer packet as many processes changed in the last year.
If you have any questions about EZMC's Safe Church Policy please contact a member of the Safe Church Committee (Marlow Gingerich, Dana Hyde, Susan Schmitz, or Melanie Wiegand)
We will be printing an updated EZMC Church Family Photo and Address Directory in September 2021.
If you moved or have a new phone number since the printing of the Church Directory update page (early 2021) and have not given your updated information to the church office, please do so.
If you were not in the last directory (printed January 2020) but would now like to be included please contact the church office. We would love to see updated photos! Please send to Lisa, preferably in digital form (jpeg) by email at office@ezmennonite.ca. If you have a photo you would like her to scan, make arrangements to drop off and she will return to you. These photos can be casual. If you are submitting a photo please remember that professional photos are subject to copyright so permission would be needed from the photographer to include.
Deadline to submit is September 8, 2021.
Please note that we encourage every person or family unit to submit a photo. The gathering restrictions of the last year have reminded us how difficult it is for newer persons to our congregation to get to know people. A picture in a directory helps so much, and is so welcoming! As Lloyd continues to get to know us, and as we anticipate welcoming a new pastor in the Fall, an updated photo directory with pictures of everyone will be a wonderful gift. Thank you so much for your willingness to submit a photo! It is very much appreciated!
BEYOND OUR CHURCH COMMUNITY
MCC@100 – Mennonites, Service and the Humanitarian Impulse
September 30th – October 2nd, 2021
A Virtual Mennonite Studies Conference at The University of Winnipeg. In 1920, Mennonites in Canada and the U.S. formed Mennonite Central Committee to aid famine-ravaged Mennonite communities in southern Russia (present-day Ukraine). Over the ensuing century, MCC has grown to embrace service in more than 60 countries. This centennial conference presents papers that examine the past, present, and future of MCC. Visit mcco.ca/events to learn more.
Undercurrents Podcast: We must own the whole story
As we grieve the growing number of unmarked graves at residential schools across Canada, we are doing a special early release of our first episode of Undercurrents, Season 2. In this episode we talk about the Mennonite church's participation in the residential school system. We hear from Merle, a former residential school worker who has spent the majority of his adult life working to be accountable for that legacy, and encouraging fellow Christians and settlers to hold themselves accountable, too.
Grow Hope Niagara
Become a virtual farmer by partnering with CFGB and MCC to sponsor acres through Grow Hope Niagara and raise funds to help hungry people around the world. Your $400 per acre sponsorship can become up to $2000 through government matching. More info at mcco.ca/grow-hope.
Raw Carrot soup now available at New Hamburg Thrift Centre
The Raw Carrot is excited to announce that our soup is available for sale at New Hamburg Thrift Centre! As an MCC Ontario program, The Raw Carrot provides a compassionate workplace to people on long term disability. Our healthy soups are handcrafted in small batches, packed with tasty veggies and free of added preservatives. Fresh ingredients are sourced as locally as possible. Our staff are "stirring up" change with their delicious, handcrafted gourmet soup!" Soup can be purchased at MCC Thrift & Gift in Elmira, Thrift on Kent in Kitchener and now at the New Hamburg Thrift Centre.