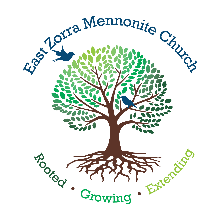 Resources to help us to stay Rooted in Christ and Growing together in Faith
We welcome our sisters and brothers from Tavistock Mennonite Church to our worship gathering over Zoom or in-person.
Register for Sunday morning in-person worship, anytime during the week, by contacting Lisa at office@ezmennonite.ca. Please indicate which Sunday you are registering for and who will be attending with you. If Lisa is unable to take your call, leave a message that includes your name and phone number. Your registration will then be confirmed either by email or phone. Deadline to register each week is Saturday by 10 a.m. Please note that registration emails for Sunday August 29th will be confirmed by Lisa on Saturday August 28th when she returns from holidays.
If you would like to join us by Zoom please send your request to Pastor Ray at ray@ezmennonite.ca.
We are grateful for your financial giving to the ongoing work and ministry of the church. This week our offering focus is "Local Ministries."
Labour Day Weekend, Sunday September 5, 2021 will be the last of our Summer Combined Services for 2021. Cassel Mennonite Church will be hosting the service. More details about the service will come in next week's letter and announcement sheet.
Extending God's Love
Mennonite Central Committee Requests Prayer and Donations for Haiti
We welcome your gifts to provide emergency support and supplies to those affected.
Donations to this response can be made online or by calling 519-745-8458 or by mailing a cheque to MCC, 203-50 Kent Ave, Kitchener, ON N2G 3R1. Please indicate Haiti Earthquake Response on the subject line.
Thank you and please join us in prayer for the people of Haiti.
With gratitude,
John Head
Executive Director, MCC Ontario
Mennonite Central Committee (MCC) invites your prayers for Afghanistan – for our partners, and indeed for all our neighbours, in Afghanistan and for a peaceful conclusion to the current tension and fear.
A prayer for Afghanistan
God of safe passage, open the way.
God of hospitality prepare rooms to receive.
God of protection, envelope those in danger.
God of peace, remove the seed and tools of violence.
God of tears, hold us in your embrace.
Oh God we pray that peace would flow down like cooling rain on Afghanistan. AMEN
EZMC Announcements
East Zorra is excited about the season of Sunday worship gatherings this coming fall. A pool of capable ushers is desired to facilitate the flow of people. Ray & Lloyd want to meet with these special people.
They are calling a short meeting on Sept 12 at 9:15 am. Both those who haven't ushered in the past, and those very experienced are invited. Anyone interested in helping with ushering can contact Pastor Lloyd to confirm their attendance so he can bring your favourite beverage, and inform of expectations for this frontline position.
EZMC Building Use for Committee Meetings.
A designated meeting space that allows for physical distancing will be located in the basement. The boardroom and other small rooms are closed for now. Please contact Lisa and book the meeting space to ensure that it is available for use. You will be sent the health and safety protocols before your meeting.
We will be printing an updated EZMC Church Family Photo and Address Directory in September 2021.
If you moved or have a new phone number since the printing of the Church Directory update page (early 2021) and have not given your updated information to the church office, please do so.
If you were not in the last directory (printed January 2020) but would now like to be included please contact the church office. We would love to see updated photos! Please send to Lisa, preferably in digital form (jpeg) by email at office@ezmennonite.ca. If you have a photo you would like her to scan, make arrangements to drop off and she will return to you. These photos can be casual. If you are submitting a photo please remember that professional photos are subject to copyright so permission would be needed from the photographer to include.
Deadline to submit is September 8, 2021.
Please note that we encourage every person or family unit to submit a photo. The gathering restrictions of the last year have reminded us how difficult it is for newer persons to our congregation to get to know people. A picture in a directory helps so much, and is so welcoming! As Lloyd continues to get to know us, and as we anticipate welcoming a new pastor in the Fall, an updated photo directory with pictures of everyone will be a wonderful gift. Thank you so much for your willingness to submit a photo! It is very much appreciated!
Beyond Our Church Community
CommonWord is here for you this fall! CommonWord is a Bookstore and Resource Centre in Winnipeg operated by Mennonite Church Canada and Canadian Mennonite University. As of August 30th, CommonWord will resume regular hours (Monday to Friday, 9am to 5pm) serving you with trusted congregational resources, Anabaptist and related books, specialty foods, and new Indigenous products. Visit us CommonWord by phone (1-877-846-1593), email (info@commonword.ca) or online (commonword.ca).
Love Your Neighbour: Vaccination Response
Mennonite World Conference is calling on its members around the world to love their neighbour by donating to UNICEF's campaign to share coronavirus vaccinations around the world. The Government of Canada will match, dollar for dollar, every donation made by individual Canadians to UNICEF Canada's COVID-19 vaccination fundraising campaign, up to a maximum of $10 million, until September 6, 2021. Find a weblink to donate to UNICEF in your country.
The August edition of On the Level is now available from Mennonite Disaster Service. In our current issue: MDS volunteers help to renovate and upgrade a 100-year-old office building recently purchased by MCC in Timmins, bridges are constructed in collaboration with Engineers in Action and MDS, and MDS actively monitors the wildfire situation in the western and central U.S. and British Columbia. Click on this link to read more: https://conta.cc/3ggsJhU
Thursday September 16, 2021 MEDA Breakfast 7:30 – 9 a.m. at Stone Crock Restaurant/Tent behind the building. We've missed getting together and look forward to seeing familiar and new faces at our September event! All are welcome to join us for a Thursday morning breakfast, which will feature time to connect and reconnect with each other, and with MEDA. Mark your calendars! Cost is $20 payable online or at the door.
Please note: Waterloo Region's face covering by-law makes it mandatory for attendees to wear a face covering, except when eating and drinking in their seats. Table capacity will be limited and collection of contact information for contract is also required to attend.
Monday September 20th MCC Ontario Annual General Meeting 7 – 8 p.m.
We deeply appreciate your support, and how you are impacting so many lives in Ontario and around the world. Join us on September 20 for our Annual General Meeting (AGM) as we share MCC Ontario's financial outcomes and a snapshot of our strategic plan progress. Official Congregational Representatives and Delegates who register as such are entitled to vote. Visit mcco.ca/AGM for details.
September 30th – October 2nd, 2021 MCC@100 – Mennonites, Service and the Humanitarian Impulse A Virtual Mennonite Studies Conference at The University of Winnipeg. In 1920, Mennonites in Canada and the U.S. formed Mennonite Central Committee to aid famine-ravaged Mennonite communities in southern Russia (present-day Ukraine). Over the ensuing century, MCC has grown to embrace service in more than 60 countries. This centennial conference presents papers that examine the past, present, and future of MCC. Visit mcco.ca/events to learn more.