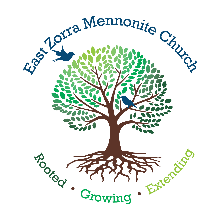 East Zorra Mennonite Church
Weekly Letter and Announcements – No. 87
Friday November 12, 2021
Resources to help us to stay Rooted in Christ and Growing together in Faith
Attention EZ Families! – Mark your calendars for Monthly Outdoor Family Nights starting this Saturday November 13th at 6:30 pm in our new Green Space.
In conversation with the CENT Team, and due to a challenge in finding Club leaders, we will trial monthly Outdoor Family Nights in lieu of Boy's Club and Girl's Club, for this season.
Families with children of all ages are invited. ALL ARE WELCOME!
We will begin together with a time of acoustic worship around the campfire. After children will have time to play together while parents socialize. Please dress for the weather as we will be remaining outdoors. Bring lawn chairs, a snack for your family, roasting sticks, sports equipment and any acoustic instruments you would like to contribute to our worship time. Hope to see you all there!
Sunday November 14th Worship Gathering 10 AM – Stress Busters Series Continues.
Message: Principles for Handling Pressure
Please pray for Danielle & Gary Bauman, and their daughter Kinsley, as they present themselves and Kayden in a time of Parent Child Dedication.
Register for Sunday morning in-person worship, anytime during the week, by contacting Lisa at office@ezmennonite.ca Please indicate which Sunday you are registering for and who will be attending with you. If Lisa is unable to take your call, leave a message that includes your name and phone number. Your registration will then be confirmed either by email or phone. Deadline to register each week is Saturday by 10 a.m.
We are grateful for your financial giving to the ongoing work and ministry of the church. This week our offering focus is "Mennonite Church Eastern Canada and Mennonite Church Canada"
Attention kids JK-Grade 8!!! Come meet under the 20'x20′ (tent in the green space) for a Bible devotion, crafts, games & activities!  Parents need to register children with the church office by 10 a.m. Saturday morning. (office@ezzmennonite.ca . Parents must also plan to be in attendance at in-door worship and have their cell phones close by for emergency contact.
Parent drop off is 9:50-10:00. Parents must come with children to sign in and answer Covid protocol questions.
Come dressed for the weather and bring a mask, water bottle and Bible. We will plan to be outside.
Gifts Discernment Committee is excited to share that Jared Yantzi has accepted the invitation to serve as a Lay Minister of Christian Education and Nurture. We will plan for a Service of Commissioning in the weeks ahead.
Extending God's Love
Next Sunday November 21, as a part of our weekly worship service, our Care Team will host our annual Service of Remembering to name and remember family members of who have died through the year. Our focus has been on remembering spouses, parents, children, siblings and grandparents of congregational members. To help us remember we will take time at our Sunday morning worship gathering to name those family members mentioned above and, in a few moments of silence, remember their lives. We will also give space for you to silently name and remember other significant people in your life who have died. As we take these moments to remember together and grieve with each other we pray that we can all take another step through our grief.
EZMC Announcements
UPDATE – Mark your calendars! Our Live Nativity will be held on Sat, Dec 18th from 5:00-8:00 pm (rain date Dec 19th). We have had some response from people to take part as character roles, but we will need more! Most roles do not require you to speak, just to be in costume. We are hoping to have two teams of actors, to allow for a break from the elements. The list below shows what one team looks like. We will need:
3 – Marys
3 – Josephs
4 – Roman Guards
1 – King Herod
6 – Wise Men
at least 5 or 6 Shepherds (adults & children)
at least 5 or 6 Angels (can have more, a multitude, adults & children)
1 – Isaiah the prophet – he will narrate his story
We are also looking for 8-10 guides to lead our visitors and narrate the story as they go.
Please email or speak to Chantelle McNeish, Sue Martin, Holly Barron, or Lauren Witmer if you would like to fill one of these roles!
Volunteers will also be needed to collect donations and hand out treats to our visitors, or tear down and clean up sets. Please speak to or email Connie Yantzi to help.
Don't hesitate! Help us make this a memorable Christmas experience for all!
The Green Space Committee is wondering if there are any members of the congregation with surplus sports equipment they would like to donate. We are looking for things like:
– frisbees
– scoops and balls
– skipping ropes
– soccer balls
– basketballs
– footballs
– road hockey gear
– bicycle pump (to inflate balls)
Anything gently used, that is no longer in regular use at your homes, would be great. Contact Tyler at teamyantzi@yahoo.ca if you have questions OR just drop your items off in the bin between the concrete sports pad and shed.

Junior Christian Education Team (JCET) is hoping to expand our children's program to include preschool to grade 8. We need help for ALL ages to lead & teach Bible stories and activities. Currently this taking place during the church service. In November we will be able to be inside but will plan to meet outside in the tent & green space as long as the weather allows. Preschoolers will be inside. To volunteer please contact Jess Yantzi, Holly Barron, Naomi Mogk, or Sue Martin.
EZMC's Safe Church Policy requires that all volunteers, who work with vulnerable persons, have a current Vulnerable Sector Check (VSC) on file. If you received a Volunteer packet and haven't returned your VSC please submit it to the church office as soon as possible, along with your signed Volunteer Commitment Form. If you have any questions about EZMC's Safe Church Policy please contact a member of the Safe Church Committee (Marlow Gingerich, Dana Hyde, Susan Schmitz or Melanie Wiegand)
Important Reminder to Parents – Our safe church policy requires a completed waiver for each child involved in Sunday School, Girls Club, Boys Club, and MYF who are under the age of 18. Please bring a completed form (double sided) to an event that your child(ren) attends if you have not already done so. Blank waiver forms will be available for you to complete when you arrive to check in and fill out the contact tracing sheet. Thanks so much!
EZMC Building Use for Committee Meetings or Music Rehearsals.
A designated meeting space that allows for physical distancing will be located in the basement. The boardroom and other small rooms are closed for now. Please contact Lisa and book the meeting space to ensure that it is available for use. You will be sent the health and safety protocols before your meeting.
Sanctuary space is also available during the week. Please book with Lisa to ensure it is available.
Beyond Our Church Community
New Hamburg Thrift is in need of Volunteers!! We are looking for people available through the week in numerous different positions! We have housewares, and fabric, Receiving and delivery drivers! Now that we are open late Thursday and Fridays we are also looking for help in our store front Thursday evening as well as Saturdays. Please reach out to Jennifer Woolner at jenniferwoolner@mcco.ca or 519-662-2867. You can also go to newhamburgthrift.com and fill out a Volunteer application. Thank-You
Urgent need for sewing kits – We are in urgent need of 200 sewing kits for an October shipment heading to Ukraine. Can you help? Sewing kits open doors to additional income that can help a family make ends meet. Call your local MCC office for a list of contents or go to mcco.ca/kits.
Sunday November 14th at 3 p.m. – The Mennonite Community Orchestra presents "Prairie Sunrise" at the Lutheran Church of the Cross (560 Arlington St., Winnipeg). Enjoy a variety of CMU and community musicians under the direction of Andrea Bell. For ticket, vaccination, and livestreaming information visit mennonitecommunityorchestra.wordpress.com.
Thursday November 18th at 7 p.m. – Life Upstairs: Stories from Brubacher House,
What would it be like to live in a museum? Join Brubacher House for an evening of storytelling and conversation with past and present Brubacher House Hosts in celebration of the new LIFE UPSTAIRS digital exhibit. This free online community event will take place over Zoom. Visit grebel.ca/events for registration and details.
November 18-19 – Reconciliation in action, MCC's virtual peace conference. This year's Peace Conference will take place online on November 18 and 19. More details available on Mennonite Central Committee's website.
Thursday November 25th & Friday November 26th 12 pm – 8 pm
and Saturday November 27 10 a.m.– 5 p.m. – MCC Christmas Marketplace
Looking for a unique one-of-a-kind gift with social impact? Join us for a special MCC Christmas Marketplace. You will find sewing creations from our program at Grand Valley Institute for Women; greeting cards designed by in our Circle of Friends participants; handcrafted items made by volunteers and more! Raw Carrot soups will be featured. All proceeds support MCC relief, development and peace projects locally and around the world. This year, give a gift which makes a real difference in the lives of others!
Thursday November 25, 6:29-8:20 p.m., online event "Home": A podcast & discussion event
Join us for a rich conversation with Israeli Jewish filmmaker Lia Tarachansky and Palestinian poet Izzy Hawamda, stars of the Undercurrents podcast episode "Home" where tough issues of colonization, sense of home, and moral obligation collide. Hosted by MCEC Palestine Israel Network (PIN) in partnership with Kindred Credit Union and MCC. Register here.
Theatre of the Beat invites you to Forgiven/Forgotten. This audio-visual presentation follows the varying responses of a community that learns an ex-offender will be serving his parole in their midst. This emotionally driven piece addresses issues of crime, reintegration, and our responses to those affected by these themes most. There are in-person screenings in Kitchener, Waterloo, and Toronto from November 19th to December 2nd or digital screenings from November 26th to 28th. For tickets and more info head to www.theatreofthebeat.ca/forgivenforgotten