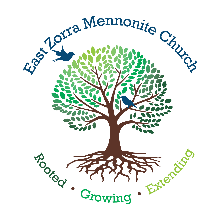 Resources to help us to stay Rooted in Christ and Growing together in Faith
Sunday February 6, 2022 Worship Gathering 10 AM – Jesus' 'Sermon on the Plain' Scriptures this week are Luke 6:20-36 & John 17:20-26.
What does Christ expect of His people in these times?
Register for Sunday morning in-person worship, anytime during the week, by contacting Lisa at office@ezmennonite.ca  Please indicate which Sunday you are registering for and who will be attending with you. If Lisa is unable to take your call, leave a message that includes your name and phone number. Your registration will then be confirmed either by email or phone. Deadline to register each week is Saturday by 10 a.m.
** Our children will gather with their parents in the sanctuary for the first part of the worship service. Following a children's time, they will be invited to move outside for play based activities, lead by their leaders, for the remainder of the worship service time.
**During this current worship structure, we will continue to invite congregational sharing and prayer in the first half of the service.
We are grateful for your financial giving to the ongoing work and ministry of the church. This week our offering focus is "Mission Partners". For people gathering in-person for worship an offering plate will now be available in the lobby to leave your offering on the way into the sanctuary.
Thursday February 10 – 7:30 pm Surprised by Hope by N.T. WRIGHT
Bible Study video series – Session 2 – The Hope of the Resurrection
Join Zoom Bible Study – Contact the church if you would like to join this series.
This Bible Study series will be hosted by your pastors and will featured a 16-minute video each week. We will also take time following our Bible study to share prayer requests and pray together. For the next 6 weeks this will replace our regular prayer gathering and meeting of the CIA – Christians in Action.
EZMC Announcements
Friday February 4th – MYF – Meet at the church Friday at 7PM for tubing at River Valley in St. Mary's. We'll plan to be back at the church by 10. Bring along money for tubing and snacks.
The EZMC 2021 Annual Meeting will held on Sunday February 13, 2022, by Zoom. There will be no in-person attendance on that day. The annual report booklet is being sent in a separate email along with 2 other attachments, one regarding Refugee support and another regarding the 2021 year-end surplus discussion.
Sunday February 13th 2 – 4 p.m. JWalkers Next Event!! Skating/hockey and outdoor games
There is a rink in the green space made by the Waglers. Bring skates, helmet, and a hockey stick if you wish. Dress to be outside the entire time. We will use half the time to have a hockey game going and the other half of the time for just skating for those who do not want to play hockey. We will also play games in the snow in our big green space. Hope to see you there!!
Save the date for VBS 2022!
Our VBS week for this summer will be July 11-15.
More details to come.
Please contact Ashley Witzel or Naomi Witzel, this year's coordinators, if you have any questions.
We can't wait to see you there!
The 2022 Camp Subsidy Form is now available and you can complete and return to Dawn Zehr either by email (gdzehr@gmail.com) or mail (657173 15th line, R.R.#1 Tavistock, ON N0B 2R0).  Please note that this year no funds will be sent until camps can confirm their programming depending on Covid-19 restrictions in place. Forms are available by contacting Lisa Suderman either by email at office@ezmennonite.ca  Paper copies can be mailed to you if needed. If you have any questions please contact one of the Christian Education Lay Ministers – Bethany Kropf or Jared Yantzi.
Beyond Our Church Community
Silver Lake Mennonite Camp – Summer 2022 (www.slmc.ca)
Summer Camp Registration opens on February 1 @ 7am! Please visit our website for more information about overnight camps, outtrips and day camps. Offsite day camp locations in Leamington, Hanover, Kitchener and Waterloo! Click here for Camp Info and Registration
Time for a winter getaway? Virtual travel to Mindanao, in southern Philippines.
No need for visa applications, Covid-tests or quarantines!
Boarding Time: February 9th, 8 p.m. EST
Join your guides Lakan and Lakambini (Mennonite Church Canada Witness workers Dann and Joji Pantoja) for a virtual tour of communities in Mindanao. Meet people working in Peace and Reconciliation teams, many supported by income generation through Coffee for Peace. We had hoped in January 2022 to visit these places in person, but now we bring Mindanao to you! See, hear, and travel for an hour from your armchair! Register for your virtual ticket!
Wed, Feb 9 and Wed, Feb 16 from 6-8 pm. Online – Stitching and Stories
Join our Indigenous Neighbours team for a time of storytelling and stitching as Niska artisan Debbie Proulx-Buffalo teaches us how to bead an Every Child Matters pin. Gather with us online as we learn and listen. The session takes place in two parts on Wed. Feb 9 and Wed. Feb. 16 from 6 pm to 8 pm. Cost is $50. Register by January 31 to receive your sewing kit in the mail. To register, go to mcco.ca/events.

Tuesday February 22nd at 12 pm – The journey of a comforter – Join us for an exclusive online live event as we follow the journey of how MCC comforters are sewn, shipped and shared with people in need around the world. We'll go behind the scenes to see where comforters are pieced together by volunteers. Alex Azar, MCC Program officer in Jordan, will share about the impact these comforters have on the lives of displaced people in Jordan. To register, go to mcco.ca/webinars.
February 22-24, 2022 – Peace & Justice Student Seminar. Every year, MCC Canada's Peace & Justice Office holds a seminar for students who are passionate about issues of justice, peace and advocacy. This year's seminar, Is our climate polarized? Building bridges for our shared future, will be a hybrid event. Local MCC offices across the country will host students for a mix of shared online content and local in-person speakers. Students will engage with parliamentarians, policy experts and others to learn about addressing the impacts of climate change in their communities and around the globe. Learn more about the Peace & Justice Seminar here.
Thursday February 24th @ 6 pm The Power of Partnership
425 Bingemans Centre Drive, Kitchener
Join us and best-selling author Malcolm Gladwell as we discuss the Power of Partnership and how a legacy of partnership with local, on-the-ground organizations can bring peace, dignity and hope to those who need it most with the unintended consequence of creating more peaceful communities. This event will also be livestreamed. For more info, go to powerofpartnership.ca.
Bingemans Conference Centre and MCC are working closely to provide a safe and healthy experience for all participants and will follow all local and provincial COVID-19 regulations and guidelines.
Conrad Grebel University College is hosting a variety of virtual events over the next few months. Visit grebel.ca/events for information on Virtual Noon Hour Concerts, March Virtual Open House, a new Spirituality and Aging webinar, and the 2022 Bechtel Lecture: On Dwelling: Shelters in Place and Time, with fantasy author Dr. Sofia Samatar.
Conrad Grebel University College in Waterloo is hiring a new Director of Student Services to build a community where students find belonging, form lifelong friendships, and develop as both successful university students and as whole persons, in alignment with the mission, values and identity of the College. The successful candidate will have significant leadership experience in university or college student affairs or in a similar setting. Read the full job description and apply by March 1, 2022: grebel.ca/positions
Registration for Ontario Mennonite Music Camp (OMMC) is now open for summer 2022! OMMC is a vibrant summer camp experience designed to nurture the musical talent of youth who have finished grade 6-12, with a Leader-In-Training program available for students who have finished grades 11 or 12. Campers form friendships, enhance their musical abilities, grow in their faith, and develop leadership skills. This overnight camp is held at Conrad Grebel University College Aug 14 – 26, 2022. Register online at grebel.ca/ommc (before April 15 for the early bird rate.
Hidden Acres Mennonite Camp is Hiring for Summer Camp 2022!
Located just outside of Shakespeare, ON, Hidden Acres provides opportunities for you to impact the lives of young people, serve God and others in a safe and fun environment, grow in your ability to be a great leader and have fun through it all! We are accepting applications until February 14 for all of our summer staff roles. For more information or to apply, go to www.hiddenacres.ca or contact Chris Pot at 519-625-8602 or chrispot@hiddenacres.ca
Hidden Acres Mennonite Camp is Hiring: a full-time Assistant Director (seven month position possibly becoming permanent in the fall of 2022; application deadline is January 25) as well as for our Summer Camp Staff Team (application deadline: February 14). For more information or to apply, go to www.hiddenacres.ca or contact Chris Pot at 519-625-8602 or chrispot@hiddenacres.ca