East Zorra Mennonite Church
Weekly Letter and Announcements – No. 107
Resources to help us to stay Rooted in Christ and Growing together in Faith
Sunday April 1, 2022 Worship Gathering 10 AM – 5nd Sunday of Lent. 'Seeking God's Ways – Moving from scarcity to abundance.
**Children please bring writing and coloring tools for your time in the worship service. A colouring sheet will be provided for you.
11:00 AM – This Sunday we begin Sunday School classes for all ages.
Following our worship hour, the children will move to the basement for Sunday School.
Following a short stretch break the youth will move to their youth class. **See note below.
All adults staying for the second hour will remain in the sanctuary. We will begin a video series and discussion called "Love Does" with Bob Goff. This video and discussion class will continue over zoom for those at home.
Following the video, parents with younger children and youth will dismiss to their own Parents class for discussion. The location of that class will be named on Sunday morning.
**Attention Youth!
As we launch the youth class this Sunday, we invite you to come to the youth room. Brendan Leis and Pastor Ray will lead discussions over the next few months to help us talk about what it means to follow Jesus! We plan to use the "The Sermon on the Mount" (Matthew 5-7) to guide our discussion. Bring your Bibles! These discussions will help you think about your own personal commitment to follow Jesus and help you think about baptism. We hope you can join us!
Reminder of the Church Ministry Council updated shared last week on mask protocol.
Effective Sunday April 3, barring no further spikes in cases or revised government / public health guidance, masks will be optional at all times, with the exception of congregational singing. Public health recommends masks be worn for singing in large groups, we will continue to monitor. We encourage each of you to make a decision that feels best to you and ask that you be respectful of the decisions of others.
Pastoral Search Update
We feel so grateful for the opportunity we had last weekend to meet Mike Williamson, his wife Brandy and daughters Petra and Rebekah. The search committee is excited about the possibility of Mike joining our pastoral team. This coming Sunday, April 3rd, Tracey Kropf, our congregational chairperson will share with the congregation the next steps of our discerning process. We invite your prayers for our congregation as we continue to discern God's will together.
EZMC Pastors are inviting you to a Meeting of the CIA – Please join the 'Christians In Action' Prayer Meeting Wednesday April 6th 7:30 pm to share, care, and pray to impact our world for good! Join Prayer Meeting by contacting the church office for connect information. (office@ezmennonite.ca)
EZMC Announcements
Tuesday is the day ……don't miss out
Tuesday begins our two week blitz of knotting comforters for the Ukrainian people.
This is your chance to make a difference in this world and to re-acquaint yourself with friends from the church. (Please note that younger children who have the interest and patience to sit and knot can also come. We ask that they remain seated at the comforter during their knotting session.)
Just a note we are adding one more fully masked session on Thursday the 7th so on that date, both afternoon and evening, will be fully masked sessions.
Register with Lisa – the dates are listed below. Choose your session or as many sessions as you like and contact Lisa at office@ezmennonite.ca to register.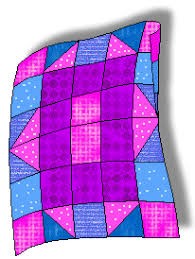 Tuesday April 5 1:30 – 3:30
7:00 – 9:00
Thursday April 7 1:30 – 3:30 Mask only
7:00 – 9:00 Mask only
Saturday April 9 1:00 – 3:00
Monday April 11 1:30 – 3:30
7:00 – 9:00
Wednesday April 13 1:30 – 3:30
7:00 – 9:00
Inviting Nominations for Lay Minister Positions
Your Gifts Discernment Committee welcomes your prayerful discernment and nominations for Lay Minister Positions that will need to be filled this Spring. We will be filling the following positions: Congregational Chairperson, Lay Minister of Missions and one male Care Team position.
We are providing 3 options for making your nominations
Send an email to ezmcgdc@gmail.com
Phone Wayne Yantzi or Marv Yantzi
For those worshipping in person a ballot box will be available at the top of the steps as you prepare to enter the sanctuary if you would rather nominate as we always had prior to Covid limitations.
We are asking that you submit your nominations by today, Sunday April 3. Thank you so much for your prayerful consideration as you make your nominations. If you sense God calling you into one of these roles please share that with us.
Do you enjoy 3 & 4 year old children? We are needing teachers and helpers for our nursery/preschool class. Please contact Sue M, Holly, Naomi M, or Jess Y if you are willing to help out on a rotating schedule till early June.
Monday, April 11th, 7:30 p.m.: Annual Meeting of the members of A.M. Fire & Storm Aid Union will be held at Donegal Mennonite Fellowship, 7021 Perth Rd 147, Listowel.
A large supply of fair trade coffee was purchased just before covid. Anyone interested in purchasing coffee please contact Merv 519 301 1461 or Gloria 519 497 2448.
VBS July 11 – 15, 2022
Who is planning on joining us at Jerusalem Marketplace this summer?
If your child is planning on attending VBS this summer or if you would like to volunteer to help (youth and adults) it's not too early to let us know. Please contact Naomi (naomiwitzel8@gmail.com) or Ashley (ashleywitzel@gmail.com) to let us know.
Are you interested in being part of a visioning team to dream about building improvements to help us live into our purpose of being Rooted in Christ, Growing Together in Faith, Extending God's Love?  Questions come up regularly regarding our facility including a kitchen upgrade, gym, air conditioning, basement renovation etc. What building improvements are important for us? How should we prioritize and sequence investments in our facility? This is important, exciting work! If you want to be part of the visioning team, please contact Tracey Kropf (tracey.kropf@gmail.com). Thank you!  
Beyond Our Church Community
Want to help make a positive impact on Mental Health and Well-being in our Community?
We are looking for a Board Member to sit on our Promotions Committee. This position will give you the opportunity to help with ICC (interfaith Counselling Centre) events and overall promotions of ICC throughout the year.
Get in touch with us today by emailing your resume to admin@interfaithcounselling.ca
Interested persons should email their resume to admin@interfaithcounselling.ca.
CommonWord Webinar: 100 Years of Mennonite Central Committee. Join Alain Epp Weaver, Esther Epp-Tiessen, and César Flores for an online conversation on Thursday, April 7 at 7:00 PM CDT. Hear about MCC's 100-year history of service and reconciliation, including the complicated ways Christian service has been intertwined with colonialism, racism, and regimes of power. Visit commonword.ca/go/2314 to register.
New Hamburg Mennonite Relief Sale Promotion Dinner
Monday April 25 at 6:30 pm, Bingemans Conference Centre
More than just a delicious meal, the NHMRS Promo Dinner is a chance to connect with community and support MCC! Enjoy a delicious buffet-style dinner, view a display of historic feature quilts and get an update from MCC staff. Tickets are $25 each (children 10 and under are free) and must be purchased in advance by ordering online at nhmrs.square.site or by calling the MCC office at 519-745-8458 (press 3).
After a two year hiatus of the in-person New Hamburg Mennonite Relief Sale, we are excited to announce that the NHMRS team is planning for an in-person sale in 2022 on Friday May 27 and Saturday May 28 at the New Hamburg Fairgrounds. Your safety is our highest priority and we will be working closely with public health to ensure a safe and fun festival. Keep up to date on the latest NHMRS news by following us on Facebook, Instagram or sign up here to receive updates.
Join Hidden Acres Mennonite Camp Staff Team for Summer 2022!
We are currently accepting applications for Assistant Program Director, Adventure Program Facilitator, Camp Pastor/Spiritual Life Coordinator, Head Cook, Waterfront Director/Camp Medic, Housekeeping, Maintenance, Nature Director, guys and girls Cabin Leaders, and Inclusion Cabin Leaders. For more information or to apply go to www.hiddenacres.ca
Celebrating 50 years of MCC Thrift
Fifty years ago, the grassroots movement of MCC Thrift shops was born. It has grown from a small dream and a handful of shops to a thriving, network across Canada and the U.S. A journey made possible by the thousands of volunteers who greet customers, accept and sort donations or work the checkouts each and every day. This legacy is worth celebrating!
New Hamburg Thrift Centre is in major need of Volunteers!! With society opening up and the busy spring season ahead, we are looking for people available through the week during regular business hours. Our Receiving manager is asking for people who can sort and help with receiving donations as they come. Please reach out to Jennifer Woolner at jenniferwoolner@mcco.ca or 519-662-2867. You can also go to newhamburgthrift.com and fill out a Volunteer application.