East Zorra Mennonite Church
Weekly Letter and Announcements – No. 109
Thursday April 14, 2022
Resources to help us to stay Rooted in Christ and Growing together in Faith
Sunday April 17, 2022 Easter Morning Worship Gathering 10 AM – 'Seeking God's Ways – Moving from certainty to openness.
**Children please bring writing and coloring tools for your time in the worship service. A colouring sheet will be provided.
We are grateful for your financial giving to the ongoing work and ministry of the church. This week our offering focus is "Leadership".
There will be no Sunday School classes on Easter Morning.
Pastoral Vote Update – We are repeating the note shared with the congregation through email and phone calls on Monday evening.
I'm pleased to inform you that Mike Williamson was very strongly affirmed as our new faith formation pastor through our congregational vote on Sunday April 10. Mike was informed of the results today and is excited about joining our church family.
Thank you for engaging in this process and for your prayerful consideration. I invite your ongoing prayers as we work through the next steps of formalizing a memo of understanding and confirming logistics and timing. We will keep you posted as we progress.
Sincerely,
Tracey Kropf, Congregational Chair
Meeting of the CIA – Please join the 'Christians In Action' Thursday April 21, 7:30 pm to share, care, and pray to impact our world for good!
Grace Lao Mennonite Church Egg Roll Sale – Please place your order by emailing Lisa at office@ezmennonite.ca Lisa will confirm that she received your order. Prices are $15 (dozen) egg rolls or $8 (box of 6). Vegetarian rolls are also available.
Orders are due by Thursday April 21st and will be available Saturday May 7.
The Missions committee is inviting people to extend God's Love through this fundraiser. Connect with a neighbour, co-worker, friend or family member. Consider purchasing a box to give or extending an invitation to enjoy some egg rolls together. More information regarding payment and timing will be available in Friday April 22nd letter.
Sending a Message of Hope……….
Thank you to everyone who took the time to join with us to knot comforters for Ukraine.
A special shout out to our committee who worked both in home preparing comforters as well as knotting at church …… It takes many people to complete the comforter story. Your work is very much appreciated.
Do you enjoy 3 & 4 year old children? We are needing teachers and helpers for our nursery/preschool class. Please contact Sue M, Holly, Naomi M, or Jess Y if you are willing to help out on a rotating schedule till early June.
A DVD is now available for our Live Nativity Production that happened in December. If you have not been able to access that or would enjoy seeing that again, please contact Lisa at office@ezmennonite.ca or call 519-655-6824.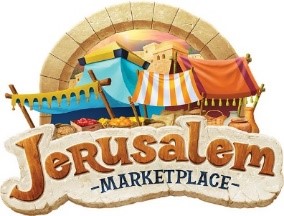 VBS July 11 – 15, 2022
Who is planning on joining us at Jerusalem Marketplace this summer?
If your child is planning on attending VBS this summer or if you would like to volunteer to help (youth and adults) it's not too early to let us know. Please contact Naomi naomiwitzel8@gmail.com or Ashley ashleywitzel@gmail.com to let us know.
The 2022 Camp Subsidy Form is now available and you can complete and return to Dawn Zehr either by email (gdzehr@gmail.com) or mail (657173 15th line, R.R.#1 Tavistock, ON N0B 2R0).  Please note that this year no funds will be sent until camps can confirm their programming depending on Covid-19 restrictions in place. Forms are available by contacting Lisa Suderman either by email at office@ezmennonite.ca  Paper copies can be mailed to you if needed. If you have any questions please contact one of the Christian Education Lay Ministers – Bethany Kropf or Jared Yantzi.
Join the Thrifty 50 Challenge!
To celebrate MCC Thrift's 50th anniversary, we're inviting you to take the Thrifty 50 Challenge! Sign up today to receive a weekly sustainability challenge that helps our planet and also have a chance to win a $25 MCC Thrift gift card every week.
Plus, when you sign up, you'll get access to the previous week's challenges in case you miss one and a bonus gift — a guide to eco-friendly decluttering. Join countless other compassionate people like you by signing up at
Live at Grebel: Interested in learning more about the University of Waterloo and Conrad Grebel University College's residence program? Drop in at Grebel any time on April 18, between 1:00pm and 4:00pm. Receive a tour of Grebel, chat with current students, and explore Waterloo's campus. www.grebel.ca/tour
New Hamburg Mennonite Relief Sale Promotion Dinner
Monday April 25 at 6:30 pm, Bingemans Conference Centre
More than just a delicious meal, the NHMRS Promo Dinner is a chance to connect with community and support MCC! Enjoy a delicious buffet-style dinner, view a display of historic feature quilts and get an update from MCC staff. Tickets are $25 each (children 10 and under are free) and must be purchased in advance by ordering online at nhmrs.square.site or by calling the MCC office at 519-745-8458 (press 3).
"Indigenous-Mennonite Encounters in Time and Place, Conrad Grebel University College, May 12-15, 2022. Pre-registration is open for this gathering offering stories and analyses of encounters and relationships between Indigenous peoples and Mennonite settlers from point of contact through to the present. Visit the conference website for more information and to pre-register: https://uwaterloo.ca/indigenous-mennonite-encounters"
Undercurrents Podcast: The only war we want is a bidding war!
In the first episode of season 3, Ken Ogasawara shares the excitement of a quilt bidding war and connects with some of the people who make the quilt auction at the New Hamburg Mennonite Relief Sale an annual highlight.
Listen here or wherever you find your podcasts.
Join Hidden Acres Mennonite Camp Staff Team for Summer 2022!
We are currently accepting applications for Assistant Program Director, Adventure Program Facilitator, Camp Pastor/Spiritual Life Coordinator, Head Cook, Waterfront Director/Camp Medic, Housekeeping, Maintenance, Nature Director, guys and girls Cabin Leaders, and Inclusion Cabin Leaders. For more information or to apply go to www.hiddenacres.ca
Want to help make a positive impact on Mental Health and Well-being in our Community?
We are looking for a Board Member to sit on our Promotions Committee. This position will give you the opportunity to help with ICC (interfaith Counselling Centre) events and overall promotions of ICC throughout the year.
Get in touch with us today by emailing your resume to admin@interfaithcounselling.ca
Interested persons should email their resume to admin@interfaithcounselling.ca.
New Hamburg Thrift Centre is in major need of Volunteers!! With society opening up and the busy spring season ahead, we are looking for people available through the week during regular business hours. Our Receiving manager is asking for people who can sort and help with receiving donations as they come. Please reach out to Jennifer Woolner at jenniferwoolner@mcco.ca or 519-662-2867. You can also go to newhamburgthrift.com and fill out a Volunteer application.
MDS (Mennonite Disaster Service) Upcoming Projects this summer
Family Project in Princeton, B.C.
Princeton was flooded in fall of 2021 and MDS has since been responding by doing clean up and rebuilding, which will conclude in May. The Family Project will follow up with homeowners, doing landscaping work and building some garden sheds. MDS will not provide childcare or a special program for children. The Family Project is designed for families to work together.
Princeton is a small town of just under 3000 in the Similkameen region of southern B.C.
Please check the MDS website for more information.
Monte Lake, B.C.
MDS Canada will be setting up a project in Monte Lake, BC starting in early May and running through the fall. If you would like to sign up to serve for 1-3 weeks at this project, please contact Clara Flores at cflores@mds.org or by calling 204-261-1274. Volunteers of all skill sets are welcome to serve. Help us bring hope to a community affected by disaster.